With 100 days to go until we officially return to Cheshire's iconic Jodrell Bank, it's time to count down the 100 moments we're most excited for this bluedot!
From hands-on science and workshops to jaw-dropping headline sets beneath the Lovell Telescope, this is a (big) taste of what will wow us this July.
What are you most excited for? Explore the lineup here and drop a comment below to let us know! Here goes…
100 bluedot 2022 HIGHLIGHTS we can't wait foR!
1. Tim Peake's unique stories of space on Saturday's Lovell Stage – only our second-ever astronaut to grace the stage at bluedot, we've been trying to get Tim to Jodrell since our first bluedot. We're so excited to finally have him here.
2. Groove Armada dropping At The River at sunset. Imagine… (Fingers crossed for t-shirt weather!)
3. Jason Pierce and Spiritualized float in space for a very special Friday night headline set in Orbit
4. Fresh from the amazing response to his debut full-length album Reason To Smile, Kojey Radical brings a combination of soulful R&B and grime to Lovell before Groove Armada
5. Kelly Lee Owens previewing new LP '8' as part of Orbit's late-night dance line-up
6. High-energy indigenous funk from South Africa with BCUC, who you might remember from our Weekend In Outer Space online celebration back in 2020!
7. Our favourite new band Los Bitchos bring the party with tracks from their new album 'Let The Festivities Begin'
8. We welcome bluedot favourite and local legend Tim Burgess back to Jodrell Bank, for a live set on Friday's Lovell Stage and…
9. The first-ever Tim's Twitter Listening Parties LIVE at bluedot, featuring album playbacks from some of our biggest names accompanied by Q&A's with the artists themselves!
10. Jane Weaver brings her latest album Flock – arguably her finest LP to date – to Friday in Orbit.
11. The stunning audio-visual 'Cascade' – a collaboration between Nabihah Iqbal and Libby Heaney
12. Lolly Adefope headlining Friday's comedy line-up… A rising star of stand-up and one of our favourite TV actors.
13. Bec Hill and Matt Parkers' A Problem Squared podcast comes to bluedot – join a live recording of one of our favourite regular listens, live at Jodrell Bank.
14. The return to Jodrell Bank of full Telescope Projections. After several years of being unable to move the Lovell Telescope's dish to face towards the stage, we're finally going to be able to tilt it, turning it into an extraordinary 220-foot wide projection surface for custom-created visuals accompanying headline performances Björk, Groove Armada and Mogwai. Plus one or two surprises still to be revealed…
15. Mogwai's first appearance at bluedot, for what will be an atmospheric and poetic set beneath the telescope. Listen to our interview with Stuart Braithwaite for the bluedot podcast.
16. Metronomy's lush new album Small World getting its first festival play… It's Good To Be Back might be the unofficial bluedot 2022 anthem.
17. The deepest of noodling as bassist extraordinaire and Warp Records mainstay Squarepusher headlines Orbit.
18. Working Mens Club are back with a new album, landing a week before bluedot this July. Perfect timing to hear some brand new tracks for the first time!
19. The iconic Brainiac Live brings kid-friendly science – explosions and all – to Saturday's family lineup. Goggles on!
20. One of 2022's biggest indie debuts, Yard Act's The Overload will make for a highlight of the weekend. Abrasive, witty and surreal… one of our current favourites.
21. Another album landing in time for this summer, Porridge Radio return in May with new LP 'Waterslide, Diving Board, Ladder To The Sky' – the follow-up to the Mercury Prize-nominated Every Bad. Standby for Dana's chat with Chris Hawkins on the bluedot podcast, coming soon.
22. Shot through with mournful eulogies to the lost golden age of childhood and youth, Lonelady's latest Former Things was one of 2021's finest and will be a perfect late-afternoon soundtrack on Saturday's Lovell Stage.
23. Alewya's Colors session is stunning, and an amazing intro to what will be a sublime bluedot highlight.
24. One of dance music's rising stars, India Jordan dropped one of 2021's best Essential Mixes back in July and a year later will be taking Orbit late into the night as our Saturday headline DJ.
25. An iconic album. And the finest roaming brass band. Standby for Mr Wilson's Second Liners performing Leftfield's legendary Leftism in a way only they can…
26. A groundbreaking one of a kind DJ, we can't wait for A Guy Called Gerald on Saturday's open-air Deep Space Disco party.
27. The big one… Sunday night with Björk and the Hallé has been the most-hyped, and long-awaited, set since Kraftwerk back in 2019. It finally arrives this summer, as a UK exclusive following rave reviews for this one-of-a-kind commission, performing with local orchestras and ensembles around the world.
28. From the Mercury-nominated Fibs to Bumps Per Minute – her latest album, a concept piece about dodgems – Anna Meredith's madcap experimental sounds were a highlight of bluedot 2017 and her return will be a unique highlight of Sunday at BD22.
29. An icon in her home country of Mali, Oumou Sangaré's Grammy Award-winning sounds have given seen her perform with the likes of Baaba Maal and Femi Kuti, while her charitable efforts have seen her celebrated by UNESCO.
30. Warmduscher bring their latest album At The Hotspot – produced by bluedot favourites Hot Chip – to Sunday afternoon on Lovell. A guaranteed sunny funk odyssey.
31. A collaborator with bluedot alumni The Chemical Brothers and Daniel Avery, Haai has made the legendary Mute Records her home for her production while holding down DJ residencies at celebrated joints like London's Phonox. A perfect closer for our Sunday night dance bill.
32. Jim Al-Khalili's return to bluedot, following the release of his brand new book The Joy Of Science, will be a guaranteed highlight of the weekend. Jim's last bluedot appearance culminated in a headline talk on our main Lovell Stage that created one of the most iconic bluedot shots – an enraptured crowd of thousands absorbed by a fascinated science speaker.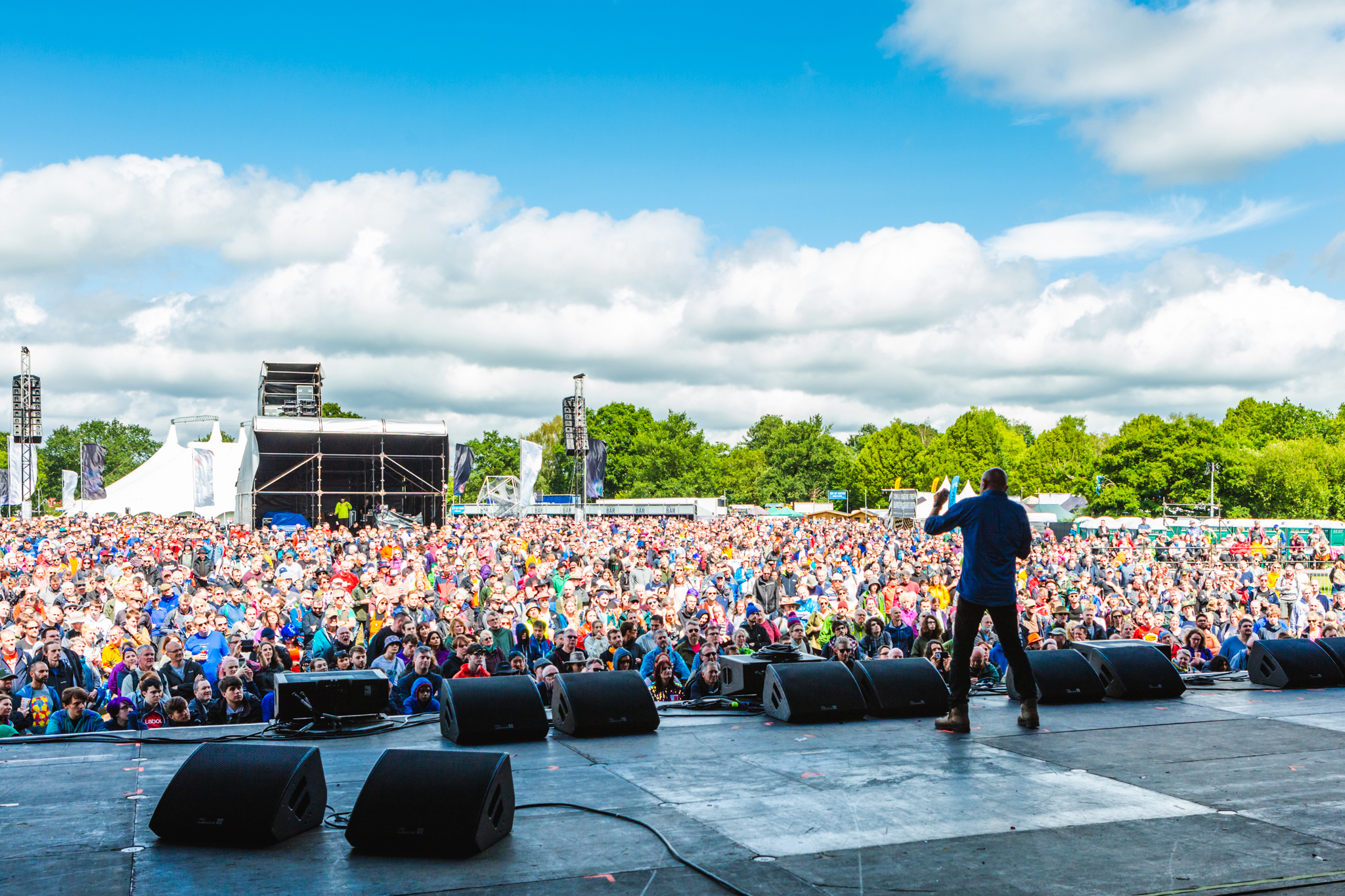 33. Purveyors of possibly the best steak around, Hawksmoor cook up a feast in the VIP Village on Saturday 23rd.
34. One of Manchester's most exciting new restaurants, District's stunning twist on Thai fusion has already bagged them slack-jawed reviews and a huge reputation in the city. They host the VIP Village on Friday at bluedot 2022.
35. Awarded the Michelin Green Prize for sustainable fine dining, our Sunday VIP hosts Where The Light Gets In are a favourite of the bluedot team and described by The Guardian's food writer Marina O'Loughlin as 'the most exciting food I've eaten in years'.
36. Previously head chef at the celebrated Basque tapas restaurant Baratxuri, Rachel Stockley was named Manchester Chef of the Year and brings her unique culinary style to host Thursday in the VIP Village.
37. Honest Crust make possibly the best pizza in Manchester, and their residencies at Altrincham Market, the Mackie Mayor food hall and Macclesfield's Picturedrome have given them a huge following in the city. They'll be serving up gorgeous wood-fired slices throughout the weekend in the VIP Village.
38. When is a crepe not a crepe? When it's a Maison Breizh buckwheat galette! The taste of Brittany comes to bluedot thanks to Andrew Saville's stunning Breton masterpieces.
39. The home of much-loved homemade, tasty and authentic Anglo-Caribbean cuisine, Blackbird Pantry have been cooking up a storm at Bury's Radcliffe Market and now bring the flavours to the full weekend in the VIP Village.
40. Our Thursday Opening Concert, headlined by bluedot favourite Hannah Peel and Paraorchestra performing their extraordinary new collaboration The Unfolding. Listen to the album if you haven't already, but you won't want to miss the live experience beneath the dish this July.
41. Playing host to inspirational storytelling shows, interviews with leading scientists and sets by guest DJs, The Space Shed returns to the Arboretum as the ultimate family-friendly spot to chill and learn.
42. From outer space to inner space, Luminarium is an incredible immersive experience inviting you to enter a unique and new structure and be moved to a sense of wonder at the beauty of its light and colour. Be inspired and lose yourself!
43. British Antarctic Survey are the UK's national polar research institute, studying polar science and the effects of climate change at the poles. They're also the operators of the research vessel RRS Sir David Attenborough… or Boaty McBoatface as it was almost known. They'll be bringing real polar ice cores to bluedot – real scientific samples containing natural gases and minerals from earth as it was millions of years ago.
44. Standby for animal magic, as Chester Zoo bring wildlife workshops and more for the whole family!
45. An iconic moment in every bluedot, our Twilight Parades are curated and performed by our pals at Global Grooves and create an atmospheric highlight of the evening as day becomes night…
46. Imagine Pac Man… but lifesize. You've got Actual Reality Arcade! Real versions of iconic arcade games come to bluedot. Drop the joystick and dive in.
47. Jedi Lightsaber Classes will be running throughout the weekend, giving the young and young-at-heart the chance to be trained in the ways of the force by a real life Jedi master. A once in a lifetime opportunity.
48. By night, Jodrell Bank is a perfect location for Stargazing and our sessions will give you the chance to learn your Polaris from your Pegasus.
49. Classic Hollywood movies recreated… in felt?! Pop-Up Puppet Cinema is your go-to for hilarious remakes of iconic films in puppet form. Trust us.
50. Our bluedot podcast with Chris Hawkins has already welcomed some amazing guests from the worlds of music, science, culture and more. For 2022 we'll be bringing the podcast to bluedot for the first time, with Chris meeting some bluedot legends for in-depth chats and audience Q&A's. Standby for our line-up announcement soon.
51. The soundtrack to our mornings on BBC Radio 6 Music, and an icon of the underground scene, Mary Anne Hobbs will be selecting deep cuts and more before Björk takes to the Lovell Stage on Sunday at bluedot 2022.
52. Powerful, emotional sounds of Angola and Portugal, Pongo has collaborated with the likes of Buraka Som Sistema and brought a new wave of classic kuduro to the mainstream. A unique live energy, and one not to miss!
53. Manchester legends A Certain Ratio are as tight and effusive as ever, and their appearance on Sunday's Lovell Stage will be a sure highlight. As The Guardian's Dave Simpson put it, "Once you start listening to A Certain Ratio, it's difficult to stop".
54. One of our favourite collaborations of recent times, Stealing Sheep and Radiophonic Workshop will be performing a festival exclusive of their new La Planete Sauvage release to open Sunday's Orbit arena. Devised as an accompaniment to the experimental sci-fi film, the soundtrack will be performed live with visuals from the film and the iconic sight of the Radiophonic's legendary synths and theremins.
55. W.H Lung's second album Vanities has been described as "an album created in solitude that feels bursting with vitality and the love, promise and transcendence of shared dance floor experiences". As one of Piccadilly Record's (and our) Albums of the Year, it's a perfect soundtrack to ease into Sunday evening in Nebula.
56. One of the underground scene's underrated favourites, The Bug Club are beloved by indie tastemakers including Marc Riley, whose 6 Music show has supported them since day one. We love them. Check out their Sunday afternoon slot in Nebula after an afternoon stroll and a Real Ale Tent breather.
57. Mark Radcliffe returns to bluedot with Une, his dancefloor-ready collaboration with long-time pal Paul Langley. "Pop music for dreamers." Recommended.
58. Awesome family science shows return to The Big Bang Stage! Get stuck in with hands-on experiments, explosions, loud noises… everything that made the science lab our favourite place at school.
59. Crazy DJ sets and family fun at Deep Space Disco from Star Wars Disco and the Time Machine Disco, to Bhangracise, Dance Like A Mother baby dance sessions and Shlomo's kids beatbox adventures. Kapow!
60. A highlight of our culture bill, Stewart Lee presents his King Rocker film, screened with a Q&A. His love letter to a classic underground Birmingham band of his childhood, King Rocker's celebration of The Nightingales will have you laughing, cheering and grooving.
61. One of the finest minds in the study of history, and a legendary, inquisitive writer – together. David OIusoga and Jon Savage in conversation will be a fascinating deep-dive into a multitude of topics.
62. They're back! Big Fish Little Fish present a special kids Cosmic Disco, soundtracking the little ones' astronomical adventures with fun and dancing on Deep Space Disco.
63. Maxine Peake and The Eccentronic Research Council performing their latest collaborative project The Dreamcatcher Tapes, a madcap experimental foray into psych and more on the Nebula stage.
64. Desiree Burch is one of our favourite comedians. She's also terrible at Taskmaster. Luckily for us, she's only doing the stand-up at bluedot.
65. Ahir Shah's sharp, intellectual brand of stand-up features a blend of philosophical inquiry, political vigour, and sweet gags. You'll recognise from the likes of Mock The Week and Have I Got News For You, and more!
66. "Making powerhouse stand-up from the thorniest of subjects" – The Guardian. Kiri Pritchard-Mclean's stand-up is not for the faint-hearted – get ready for cry-out-loud horror stories of dating and clubbing. Always hilarious.
67. What a privilege it is to welcome Rough Trade Books to bluedot. The home of our writer of the year Musa Okwonga and so many more take over Notes on Sunday 24 July!
68. An all-star cast of Dot Talks take over Mission Control this July, with the likes of Libby Jackson and Sheena Cruickshank exploring space, Christopher Jackson and Sarah Crowther digging into Earth Science and Environmentalism, and so much more.
69. The home of hands-on science, the Science Fields hosts tents and stalls packed with scientific displays, games and interactive experiments. Great for exploring new areas of research and speaking the with cutting-edge scientists themselves!
70. Close Encounters Expo could well be the UK's biggest science fair! Discover mind-expanding stalls & interactive exhibits, exploring the latest research from our world, with plenty of content suitable for all the family.
71. After all the amazing music, science talks, art and more… sometimes all you need is a massage and a hot tub session. Roll on the return of Elevate, our wellness village at bluedot 2022!
72. No flat lager here, no sir. The legendary bluedot Real Ale Tent is back, in collaboration with our good friends at Lancaster Brewery and stocking an array of real ales, craft beers and more. Perfect for the sophisticated drinker.
73. Standby for the reveal of our extensive G'Astronomy food and drink line-up, carefully hand-selected for an array of lip-smackingly tasty options from across the universe and with plenty of vegan, veggie and gluten-free choice.
74. The home of literature at bluedot, we're excited to be bringing an amazing line-up of writers and publishers to Notes, including a special Sunday takeover from Rough Trade Books.
75. Clangers celebrated their 50th anniversary and the Moon Landing with us at bluedot 2019 with an exclusive screening and a very special Q&A with the Clangers production team, hosted by Maggie Aderin-Pocock. They're back for 2022 with more cosmic adventures and fun activities planned – standby for news soon!
76. Dance Like A Mother – Manchester's best loved baby-wearing dance class – brings a special session of welcoming, joyful & inclusive fun for parents with babies aged 8 weeks to 2 years. Swaddle up and have a boogie!
77. New for 2022, Twisted Time Machine takes you on an interactive journey through time and space landing in all the best musical decades from the 1920s all the way to modern day and beyond!
78. Don't forget – your bluedot pass includes entry to the Jodrell Bank Discovery Centre when you're with us! Don't miss the chance to explore the UNESCO World Heritage Site's fantastic exhibition space (and, of course, the gift shop…)
79. One of bluedot's most stunning areas, the Arboretum is the perfect spot to relax during the day. And when the sun goes down…
80. The Outer Space is the home of bluedot's late night art installations. Explore stunning light pieces, immersive experiences and much more, curated by bluedot's creative team.
81. For the first time EVER (how has it taken us so long?!) Fancy Dress Saturday is go! Whether you're Leia and Luke, Clangers and the Soup Dragon, an adventurous astronaut or something altogether more cosmic, bring your A-game with a special costume and really get into the bluedot spirit!
82. Rob Rouse is one of comedy's most lively, loveable and dynamic performers, with his tales of middle-age making him a regular on the likes of Dave and 8 Out Of 10 Cats. You may also recognise him as Shakespeare's house servant Bottom in David Mitchell's Upstart Crow.
83. A one-of-a-kind occult stand-up, Andrew O'Neill showcases their love of heavy metal with a rip-roaring show that's half-comedy, half live performance of legendary thrash and hardcore classics. It has to be seen to be believed!
84. UK Space Agency's Libby Jackson returns to bluedot for another very special talk about her unrivalled expertise in human spaceflight. Back in 2018, Libby joined us for a special talk – A Galaxy Of Her Own – on the inspirational women of science, and her work in space exploration alongside the likes of Tim Peake.
85. Founder of Ecotricity, owner of the sustainable (and vegan) football club Forest Green Rovers and all-round inspiration, we're really excited to welcome Dale Vince to bluedot after a fantastic panel with John Robb at our COP26 event in Glasgow. His principles of social, financial and environmental sustainability always make for a fascinating discussion.
86. The host of BBC's The Sky At Night, Chris Lintott is a bluedot favourite. His 2022 return, entitled 'How To Be Surprised At The Universe' gets to the heart of the wonder and awe that inspires scientists and researchers every day.
87. What would bluedot be without Henge? So this time we're giving you even more… expect a live set, DJ takeovers and a special Hengercise workout class. Bonkers fun you won't find anywhere else.
88. Our friends at New Scientist present their much-loved podcast at bluedot this July. Standby for details on panel talks on a host of topics, recorded live to listen again later.
89. Leading research scientists tackle the biggest questions at the Star Pavilion, our intimate auditorium for presentations and Q&A's.
90. Luke Jerram's iconic Gaia gives you the chance to experience Earth like only astronauts can. A special commission for bluedot, this seven-metre diameter scale model of our home floats above you in the Arboretum and gives you an experience of the much-discussed 'Overview Effect' space explorers feel when they see the Earth from a distance.
91. Hands-on science experiments, from bottle rockets to air cannons, will be led by our team of scientists and educators across the site to give kids (and big kids) the chance to get stuck into bitesize, accessible science lesson.
92. Our much-loved Workshops return – previous highlights have included plasticine modelling with Aardman Animations – and we'll be revealing exciting details and how to book on very soon.
93. The iconic centrepiece of the bluedot experience, the Lovell Stage sits beneath the Lovell Telescope and makes for a main stage unlike any you'll find elsewhere. We've hosted some extraordinary, internationally-renowned headliners under the dish – including Jean-Michelle Jarre, Underworld, Kraftwerk and The Chemical Brothers – and this year's Lovell Stage line-up is bigger than ever!
94. The home of the most dynamic and thought-provoking live acts in the universe, Orbit hosts live sets from Jane Weaver, Orlando Weeks, Spiritualized, Squarepusher and more, before morphing into the late-night home of game-changing DJs like Haai and India Jordan.
95. Nebula is where you'll find your new favourite sound, and our 2022 line-up is more diverse and experimental than ever before. From the sounds of South Asia to extraordinary audiovisual collaborations and madcap psychedelia, there's always something unique to be found in Nebula…
96. The Colony is our much-loved home of boutique camping, and a retreat from the business of the festival experience. Final boutique units and live-in vehicle spots are now available here to give your bluedot that comfy feeling.
97. Helen Pankhurst brings The Pankhurst Sessions to bluedot – an afternoon of talks on cross-disciplinary programme of feminist reflections across literature, science and film, curated by the women's rights activist and Emmeline Pankhurst's great-granddaughter.
98. When you're still bleary-eyed and the first coffee of the day hasn't quite kicked in, the return of our Kids Cinema screenings should do the job. Classic family films to ease you into the day and keep the kids occupied while you kick into gear!
99. A unique combination of music, science and culture you won't find anywhere else… Imagine walking from a groundbreaking science talk to an epic music headliner and onto the late night Outer Space arts garden… via award-winning food names, real ale and cocktails and all at a truly iconic location.
100. And most importantly… the return to bluedot of YOU! We're so excited to see you back under the dish, as we celebrate our long-awaited return and a well overdue celebration of music, science and culture at our iconic home of Jodrell Bank.