The countdown is officially on for our return to Cheshire's iconic Jodrell Bank, so it's time to count down the 100 moments we're most excited for this bluedot!
From hands-on science and workshops to jaw-dropping headline sets beneath the Lovell Telescope, this is a (big) taste of what will wow us this July.
What are you most excited for? Explore the lineup here and drop a comment below to let us know! Here goes…
100 bluedot 2023 HIGHLIGHTS we can't wait foR!
1. Pavement's only UK show of 2023 – that's right, the US indie legends will be making just ONE stop in the UK all year, and it's at bluedot. Prepare for a classic Saturday night of anthemic rock…
2. And talking of exclusive, bluedot marks Grace Jones' only Northern show of the year too. Closing Sunday's Lovell Stage with a bang, an icon of disco brings over five decades of hits to Jodrell Bank.
3. Roisin Murphy makes one of her first festival headline appearances, ushering in a new era after the Roisin Machine run saw her headline Glastonbury's West Holts, the amazing Homobloc LGBT all-dayer and broadcast an extraordinary specially-filmed concert experience from an abandoned warehouse…
4. Leftfield's new album just dropped, and you can hear the critically-acclaimed sounds of This Is What We Do taking over Orbit on Friday after Roisin finishes. Prepare for a bass-heavy, dub-house extravaganza.
5. Talking of new albums, Young Fathers bring Heavy Heavy to bluedot 23 after a sell-out UK run. The Mercury-nominated three-piece lay claim to one of the most explosive live shows we've ever seen, bringing to the mind the propulsive electronica of Kid A-era Radiohead and the brilliant TV On The Radio.
6. Three's a crowd, and with another new album dropping shortly Django Django will be bringing the four-part Off Planet album to Friday night, before Roisin.
7. Our Sunday closing party is the stuff of legend now, with previous shindigs hosted by the likes of La Discotheque, and this year we're taking it up a notch with the iconic Annie Mac, whose new Before Midnight series of evening parties has been selling out vast venues across the country.
8. Dry Cleaning's New Long Leg was one of our favourite debut LPs of recent years, and their 2022 follow-up Stumpwork went one better, landing on countless Album of the Year lists and giving us the tortoise tribute we never knew we needed, in Gary Ashby.
9. Black Country, New Road return to the stage in a new form, bringing one last year's Mercury-nominated Ants From Up There to bluedot with a new line-up of new, unreleased tracks.
10. The host of BBC's The Sky At Night, Chris Lintott is a bluedot favourite. His 2022 talk, entitled 'How To Be Surprised At The Universe' got to the heart of the wonder and awe that inspires scientists and researchers every day, and we'll be revealing details of this year's talk soon.
11. Meanwhile Chris' Sky At Night co-presenter, Clangers superfan and nicest woman in science, Maggie Aderin-Pocock brings a special talk to Mission Control. Standby for more details!
12. One of the world's leading thinker and researchers around sustainability, author Mike Berners-Lee – of How Bad Are Bananas? fame – explains with a special keynote how there's no 'Planet B', and what we really need to do to protect our blue dot.
13. After the huge success of his bluedot 2022 appearance, Adam Buxton returns to bluedot with a Bowie special of his music video show Bug! Part of our weekend of Bowie celebrations, Bug will take over the big screen at Mission Control for a deep dive into the music legend's most iconic visual moments. And talking of Bowie…
14. Probably the best music film we've ever seen, Moonage Daydream has landed Oscar nominations, critical acclaim and sold-out cinemas worldwide. The creator of this extraordinary film (and countless more) Brett Morgen joins us on the Mission Control stage for an in-depth In Conversation talk and a big screen showing of the movie.
15. White Rabbit Books bring Stuart Braithwaite of bluedot favourites Mogwai, 90s icon Miki Berenyi and Fat Whites' Lias Saoudi to our Notes literature arena, diving deep into their much-loved books. Stuart's Spaceships Over Glasgow has been described as a 'love song' to live rock and roll and spacey psychedelia (did you know Stuart's dad was the last Scottish telescope maker?), while Miki's Fingers Crossed was named Rough Trade's Book of 2022.
16. When it comes to kids raves, there are no better partystarters than the much-loved Big Fish Little Fish, who bring two special parties to Deep Space Disco!
17. And while we're getting loose, Bhangracise return to bluedot for a Bhangra-themed dance workout class.
18. Keith Farnan's immersive kids theatre show Kidocracy comes to Mission Control, showing kids how they can learn more about democracy and become the leaders of the future!
19. Our Kids Social curate unique family events in Manchester and further afield, and for bluedot 23 we're bringing them to Deep Space Disco for a special silent disco party… Headphones at the ready!
20. We all know the most fun part of science lessons was getting our hands dirty, and that's why the Hands-on Science at bluedot is one of the best bits for kids (big and little). Expect experiments and activations across the site, giving you the chance to ditch the textbooks and learn science lessons with every sense.
21. One of the most popular parts of bluedot's family programme, Jedi Lightsaber Training returns to the Star Fields bigger and better for 2023. Standby for details on how to book onto these free but very in-demand sessions.
22. Imagine Pac Man… but lifesize. You've got Actual Reality Arcade! Real versions of iconic arcade games come to bluedot. Drop the joystick and dive in.
23. Hilarious reworkings of classic sci-fi and cult movies in puppet form… the Pop-Up Puppet Cinema comes to Jodrell! What's not to love?
24. The VIP Village is back, reworked and reshaped for a new era. Curated by and raising money for Eat Well MCR, the Village will again be supporting those sidelined by poverty in Greater Manchester. Enjoy an incredible array of game-changing food and drink curators exclusive to the village, including…
25. Dishoom, the home of the glorious breakfast naan and one of the best curries in the UK. Twice winners of the Best Restaurant in the UK on Yelp, you can find Dishoom in London, Edinburgh and close to home on the edge of Spinningfields in Manchester.
26. The ultimate bluedot chef, Caroline Martins worked as a physicist for a decade before hanging up the lab coat and donning the apron, and now she brings Brazilian-British fusion to the village at bluedot 23!. Caroline represented the North West in The Great British Menu and following the launch of her stunning Sao Paolo bistro in the new Exhibition food hall in central Manchester, she is set to launch her own Sao Paolo Project standalone restaurant in Manchester in 2023.
27. Awarded the Michelin Green Prize for sustainable fine dining, Where The Light Gets In are a favourite of the bluedot team and described by The Guardian's food writer Marina O'Loughlin as 'the most exciting food I've eaten in years'
28. Levenshulme wine bar Isca curate this year's VIP Village organic wine bar, with Where The Light Gets In's sommelier Caroline Dubois selecting an array of low intervention wines to accompany your gourmet snacking!
29. Erst's seasonal small plates have made them one of Manchester's best loved hangouts, and they'll join us for Saturday's open-fire barbecue.
30. Manchester Food & Drink Festival's Best Newcomer, the team behind Another Hand made their names at Hispi, Edinburgh Castle and Holy Dough before striking out on their own with an intimate casual spot at Deansgate's Great Northern Warehouse. Their current evening menu kicks off with cocktails like cold brew negronis and pear and thyme sazerac, explores flatbread n'duja, chalk stream trout, bbq squid with black pudding, and braised ox tongue, before sliding into desserts like malted toffee carrot cake. Divine.
31. Purveyors of M20's finest coffees and baked goods, Kiosk partner with specialty roasters Blossom and award-winning bakeries Long Bois and La Chouqette to provide treats and tipples whatever the time.
32. You'll have seen Honest Crust at Altrincham Market, Manchester's Mackie Mayer food hall and our local Macclesfield Picturedrome, and now they're back to bluedot! Wood-fired seasonal sourdough loveliness.
33. When it comes to tv, you can't beat the classics. And this year the legendary Dr Who celebrates 60 years! So what better occasion to curate a special anniversary programme of talks, panels and screenings. Full lineup revealed soon!
34. Take some time out from exploring the bluedot universe and realign your planets at Elevate. Discover a tranquil area of serenity just off of the Arboretum, away from the cosmos. Rejuvenate with a massage or refresh yourself with yoga in the wondrous surroundings in the grounds of Jodrell Bank.
35. From outer space to inner space, Luminarium is an incredible immersive experience inviting you to enter a unique and new structure and be moved to a sense of wonder at the beauty of its light and colour. Be inspired and lose yourself!
36. Parades return to bluedot for an explosion of colour and fun. 2023's bluedot theme is Space Carnival, and you can expect a riot to weave through the main arena when our daytime parade kicks off. Standby for more details, revealed soon…
37. Explorer Dome's 45 minute show explores new ideas and scientific discoveries in an immersive planetarium experience. Enjoy hands-on experiments, interactive content and kid-friendly talks.
38. As the Sun disappears and the Moon rises over bluedot, watch as the Outer Space arts garden comes to life. Open only after dark, the Outer Space area is the place to discover unique artworks in a wooded cornucopia of fire, light and ambient sound. The Outer Space area is located in the Arboretum, close to the exciting brand new First Light development, and will open at 10pm on Friday, Saturday and Sunday. 
39. Introducing The Colony, our boutique campsite at bluedot. Wake up beneath the towering Lovell Telescope in our Bell Tents, Podpads, Bedouin Tents and more, and explore the vast wonders of the cosmos – or just sit back and observe the view. If you'd like to upgrade your standard weekend camping to something extraordinary, The Colony is the place for you.
40. Across bluedot, workshops bring science to families, with a host of special sessions. This year, we are responding to feedback and will be running family workshop activities and hands on sessions in stands across the site. This will mean that you don't have queue and you won't need to book, just turn up and take part!
41. Pioneers of 'desert blues', Tuareg rebel icons Tinariwen have been recording and performing as an ever-evolving collective since 1979. Since then they have been GRAMMY winners three times and collaborated with Carlos Santana, Warren Ellis, Wilco, TV On The Radio and Kurt Vile.
42. Nubya Garcia's Mercury nominated Source is the sound of a new wave of British jazz. Standby for a spine-tingling sax session on Friday's Lovell Stage.
43. We're suckers for an immersive AV show and Max Cooper's AV/3D has wow factor in spades. The composer and producer's latest audio-visual experience Unspoken Words comes to the Orbit Stage accompanied with stunning visuals projected onto screens both behind and in front of Max to achieve an awe-inspiring 3D effect.
44. Georgia's 2020 album Seeking Thrills is a record that blossoms into life, animated by Chicago House piano lines, vintage drum machines, and Georgia's bespoke street sass. Also, our favourite Kate Bush cover…
45. Beak's uniquely enthralling live shows come off the back of a strictly minimal recording style that has given them a taut, no-bullshit sound that brings to mind the propulsive rhythms of krautrock legends like Can. Fronted by Portishead kingpin Geoff Barrow.
46. David Holmes is a genial producer, composer and DJ, and since soundtracking over 20 motion pictures and one of the finest Essential Mixes in history, he has recently released It's Over If We Run Out Of Love, a collaboration with Noel Gallagher featuring Raven Violet.
47. Heavenly Recordings' Gwenno released Tresor – her second in Cornish – in 2022, scooping a Mercury nomination and getting a nod as one of BBC Radio 6 Music's albums of the year. A bluedot favourite.
48. CMAT's breakout album If My Wife New I'd Be Dead is quintessentially Irish country-pop and one of 2022's finest. As she prepares her second album, with the release of comeback single Mayday, we're excited to welcome her to Jodrell this summer.
49. Teleman are back, with a new album just in time for bluedot. Good Time/Hard Time drops in April, their fourth on Moshi Moshi, the home of previous bluedotters Metronomy and Anna Meredith.
50. London's Snapped Ankles describe themselves as having the 'feral energy of the forest', and on the evidence of tracks like Rhythm Is Our Business and Jonny Guitar Calling Gosta Berlin who are we to argue? Cult underground legends.
51. Developed in Kampala, Uganda by friends of bluedot Nyege Nyege, Nihiloxica combine Western techno sounds with traditional Ugandan rhythms and have been described as "owerful and exciting… You won't be watching Nihiloxica play live for a fair while, but you can and should prime yourself for such future privileges" – The Quietus.
52. Lava La Rue is a fiercely independent, multi-hyphenate talent, with co-signs from cultural arbiters as diverse as Tyler, The Creator and artistic establishments such as Tate Modern. Lava's latest EP Hi-Fidelity recently claimed four stars in the NME, and we're eagerly awaiting the follow-up to 2019's full-length Stitches.
53. bluedot's defacto house band, Henge return with an intergalactic call for peace and love. Demilitarise!
54. Championed by BBC 6Music, Rolling Stone, Pitchfork and Brooklyn Vegan, Big Joanie are a London-based Black feminist punk band whose 2018 debut album 'Sistahs' on Thurston Moore and Eva Prinz's label Daydream Library Series, led to support slots with Bikini Kill, Gossip, Sleater-Kinney and IDLES.
55. We're eagerly awaiting Johannesburg-born, Doncaster-raised Skinny Pelembe's new album, the follow-up to 2019's Dreaming Is Dead Now.
56. Intense like a techno My Bloody Valentine, Scalping follow in the same vein as bluedot alumni Working Mens Club with a dense wall of sound and driving, heavy electronics. Sure to be a standout of the weekend.
57. Throughout his career Pictish Trail has resolutely furrowed his own path, steadily creating a unique catalogue of recordings & performances, while eschewing the blueprint of the predictable singer-songwriter in favour of something untidily intriguing. His fifth album Island Family, a tribute to his home of Eigg, has been described as a "search for the euphoric in the bucolic".
58. The sounds of bluedot wouldn't exist without the huge influence of Radiophonic Workshop, who we've been thrilled to invite to bluedot as speakers, collaborators and performers. As part of our Sunday Dr Who special celebration, Radiophonic return to Orbit –where they performed alongside Stealing Sheep in 2022.
59. Now signed to Beak>'s Invada label, TVAM self-released his much-acclaimed debut Psychic Data in the autumn of 2018, creating something of a cult-classic with an album that joined the dots between Suicide's deconstructed rock 'n' roll, Boards of Canada's irresistible nostalgia and My Bloody Valentine's infinite noise. Whereas his first album focused on the unknown influences over our surrounds and the information that permeates our unconscious, his latest High Art Lite has a wider, more colourful, although no less disconcerting, remit.
60. A collaboration between Warpaint drummer Stella Mozgawa and Boom Bip (one half of Neon Neon with Gruff Rhys) Belief has been bubbling since 2013, first with jam sessions and then with secretive live performances under a fake name. Borne of a shared love for early Warp Records, drum breaks and acid house, a series of singles led to the release of their self-titled debut in 2022.
61. Starting with a broad range of influences from LCD Soundsystem, Mitski, Big Thief to Tom Waits & Americana outfit The Felice Brothers, Divorce burst into life in early 2022 with their explosive indie alt-country debut 'Services' which was soon followed up with pop-infused 'Pretty', both of which generated acclaim across the press and radio landscape alike, winning fans in DIY, So Young, Clash and Steve Lamacq (BBC 6 Music).
62. Madmadmad's freakish disco brings to mind 70's no-wave, post-punk and disco, like an illegitimate alien cousin of !!!. Prepare yourself for oozing dance bass lines, spiky guitars riffs and fizzing drums.
63. Our favourite (other) festival, Salford's Sounds from the Other City return with a gang of pals for a DJ takeover session on Deep Space Disco! And the b2bs continue with…
64. Supernature Disco, a Manchester-based DJ collective who have hosted day parties at Freight Island and shows on Reform Radio.
65. Good Afternoon, a mainstay of Manchester's queer scene. Expect psych, disco, afrobeat, techno, pop, house and much more besides!
66. And finally, Sticky Heat whose riotous parties at spots like Whalley Range's Carlton Club with Hannah Holland, Lindstrom and more have become the stuff of legend and ushered in a new era of suburban disco.
67. The merciless lord of improv John Robertson returns to bluedot with The Dark Room, an immersive comedy adventure experience described as "not to be missed" by The Guardian. A much requested bluedot favourite, along with…
68. Knightmare Live, an improvised celebration of the iconic 80's cult TV show. With a unique quest every time, no two Knightmare Live shows are the same. Prepare yourself – the game has changed.
69. London-based Scottish comedian and environmental economist Matt Winning performs live climate change comedy and and author of the book HOT MESS. Matt hosts the podcast 'Operation Earth' and has a TEDx talk about the importance of using humour to discuss climate change. He is a co-host of the BBC Radio 4 show Mark Watson and Matt Winning: Seriously, Though, The Planet.
70. The opportunity to spend a weekend at a UNESCO World Heritage Site, with all the history and prestige that comes with it,
71. bluedot's award-winning Telescope Spectaculars. Since the birth of Bluedot in 2016, the festival has annually transformed this iconic structure into a light-based artwork of staggering scale. Many months of planning goes into the creation of the artwork, which is traditional unveiled on the Friday night of the festival. Commencing with Brian Eno in 2016, every year a new artist is commissioned, working closely with the Bluedot team to realise their vision.
These have grown in ambition and scale each year, featuring many awe-inspiring, off the wall and leftfield elements, some of which are co-created in collaboration with the scientists at Jodrell Bank. For the first time at bluedot, 2022 will feature projections on the face of the Lovell Telescope as it is rotated from pointing into the night sky to face the audience of the Lovell Stage, and the Star Fields.
72. An award-winning experience, that has seen us scoop Festival of the Year at the Live Awards for bluedot 2022 and previously Best Medium Festival and Line-Up of the Year at the UK Festival Awards.
73. Our Thursday Opening Concert with Max Richter and the BBC Concert Orchestra sees the iconic composer bring VOICES and Recomposed to beneath the Lovell Telescope for a unique orchestral performance, following in the footsteps of previous Thursday headliners Hannah Peel and Paraorchestra, and The Hallé.
74. No flat lager here, no sir. The legendary bluedot Real Ale Tent is back, in collaboration with our good friends at Lancaster Brewery and stocking an array of real ales, craft beers and more. bluedot is one of only two festivals in the whole country to carry the Cask Marque – a certification of quality in cask ales you'd usually only find in the finest of taprooms and great pubs. Previous guests include Lancaster Brewery, Caledonian Brewery, Maltsmiths, Lagunitas and Blue Moon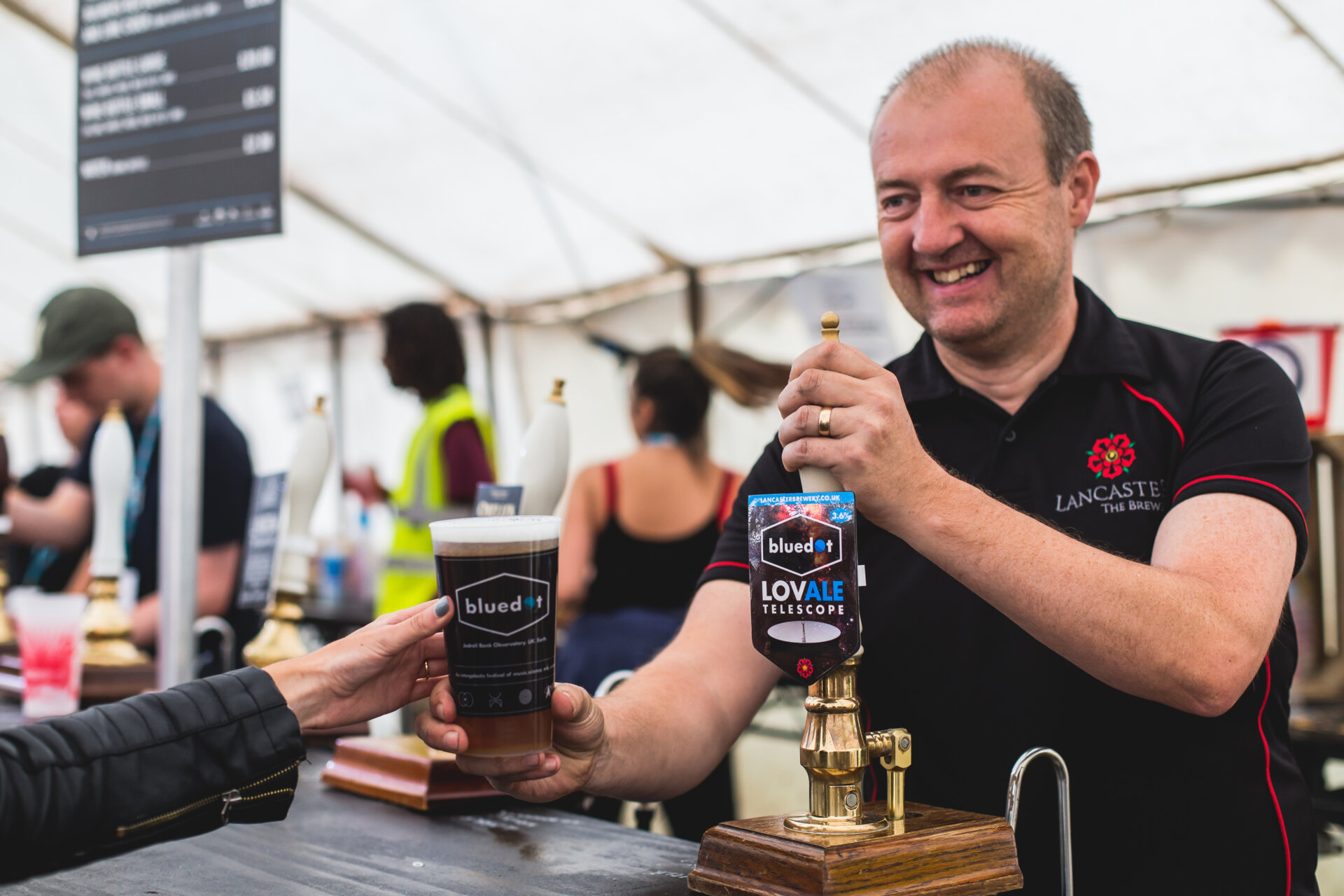 75. Standby for the reveal of our extensive G'Astronomy food and drink line-up, carefully hand-selected for an array of lip-smackingly tasty options from across the universe and with plenty of vegan, veggie and gluten-free choice.
76. The Big Bang Stage, the home of awe-inspiring live science shows, experiments, theatre and more.
77. The home of literature at bluedot, we're excited to be bringing an amazing line-up of writers and publishers to Notes, including a special afternoon takeover from White Rabbit Books.
78. An all-star cast of Dot Talks take over Mission Control this July, with the likes of Libby Jackson and Monica Grady exploring space, Mike Berners-Lee digging into sustainability, and so much more.
79. The home of hands-on science, the Science Fields hosts tents and stalls packed with scientific displays, games and interactive experiments. Great for exploring new areas of research and speaking with cutting-edge scientists themselves!
80. Close Encounters Expo could well be the UK's biggest science fair! Discover mind-expanding stalls & interactive exhibits, exploring the latest research from our world, with plenty of content suitable for all the family.
81. Secret pop-up experiences! Expect the unexpected as bluedot hides special surprise experiences, pop-up parties and more across the festival. Keep your eyes peeled…
82. Dance Like A Mother – Manchester's best loved baby-wearing dance class – brings a special session of welcoming, joyful & inclusive fun for parents with babies aged 8 weeks to 2 years. Swaddle up and have a boogie!
83. Don't forget – your bluedot pass includes entry to the Jodrell Bank Centre for Engagement when you're with us! Don't miss the chance to explore the UNESCO World Heritage Site's fantastic exhibition space (and, of course, the gift shop…)
84. One of bluedot's most stunning areas, the Arboretum is the perfect spot to relax during the day. And when the sun goes down…
85. The Outer Space is the home of bluedot's late night art installations. Explore stunning light pieces, immersive experiences and much more, curated by bluedot's creative team.
86. Fancy Dress Saturday is back! Whether you're Leia and Luke, Clangers and the Soup Dragon, an adventurous astronaut or something altogether more cosmic, bring your A-game with a special costume and really get into the bluedot spirit!
87. UK Space Agency's Libby Jackson returns to bluedot for another very special talk about her unrivalled expertise in human spaceflight. Back in 2018, Libby joined us for a special talk – A Galaxy Of Her Own – on the inspirational women of science, and her work in space exploration alongside the likes of Tim Peake.
88. Our friends at New Scientist present their much-loved podcast at bluedot this July. Standby for details on panel talks on a host of topics, recorded live to listen again later.
89. Awesome collectible merch, including stunning screenprint posters to remember the weekend and line-up hoodies, t-shirts and more. You can explore 2022's range here – store.discoverthebluedot.com
90. Leading research scientists tackle the biggest questions at the Star Pavilion, our intimate auditorium for presentations and Q&A's.
91. Hands-on science experiments, from bottle rockets to air cannons, will be led by our team of scientists and educators across the site to give kids (and big kids) the chance to get stuck into bitesize, accessible science lesson.
92. Our much-loved Workshops return – previous highlights have included plasticine modelling with Aardman Animations – and we'll be revealing exciting details and how to book on very soon.
93. The iconic centrepiece of the bluedot experience, the Lovell Stage sits beneath the Lovell Telescope and makes for a main stage unlike any you'll find elsewhere. We've hosted some extraordinary, internationally-renowned headliners under the dish – including Jean-Michelle Jarre, Underworld, Kraftwerk and The Chemical Brothers – and this year's Lovell Stage line-up is bigger than ever!
94. The home of the most dynamic and thought-provoking live acts in the universe, Orbit has hosted live sets from Public Service Broadcasting, Soulwax and Squarepusher and this year welcomes .
95. Nebula is where you'll find your new favourite sound, and our 2022 line-up is more diverse and experimental than ever before. From the sounds of South Asia to extraordinary audiovisual collaborations and madcap psychedelia, there's always something unique to be found in Nebula…
96. The Colony is our much-loved home of boutique camping, and a retreat from the business of the festival experience. Final boutique units and live-in vehicle spots are now available here to give your bluedot that comfy feeling.
97. When you're still bleary-eyed and the first coffee of the day hasn't quite kicked in, the return of our Kids Cinema screenings should do the job. Classic family films to ease you into the day and keep the kids occupied while you kick into gear!
98. A unique combination of music, science and culture you won't find anywhere else… Imagine walking from a groundbreaking science talk to an epic music headliner and onto the late night Outer Space arts garden… via award-winning food names, real ale and cocktails and all at a truly iconic location.
99. The experience of being surrounded by like-minded, adventurous explorers. We love the feeling of sharing a weekend being challenged by amazing ideas but with open-minded, tolerant folks!
100. And most importantly… the return to bluedot of YOU! We're so excited to see you back under the dish, as we celebrate a special weekend of music, science and culture at our iconic home of Jodrell Bank.